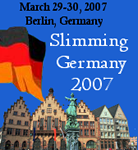 The Korean pine nut (Pinus koraiensis), which is also known as PinnoThin was selected as the most innovative ingredient at the First International Conference on Innovations and Trends in Weight Loss and Weight Management (Slimming Germany)
It increases levels of the appetite-suppressing hormones (glucagon-like peptide-1) GLP-1 and cholecystokinin (CCK). But does this actually result in weight loss?
Lipid Nutrition's Dr. Louise Mennen reported results from a randomized, crossover, placebo-controlled trial of 18 overweight post-menopausal women. Daily supplementation of 3 grams of PinnoThin led to a 60% and 25% increase in CCK and GLP-1 response over a 4-hour period, compared to the olive oil placebo.
These hormones reportedly work by delaying the emptying of the stomach (gastric emptying) and thereby promoting the feeling of fullness.
Dr. Marvin Edeas, chairman of the conference's organizing committee commented, "We were very convinced by this interesting work with an ingredient that was natural and minimally transformed."
Really? Changing hormone levels is meaningless in the absence of weight loss. I was unable to find any evidence of actual weight loss associated with Korean pine nuts.
4/5/07 13:11 JR