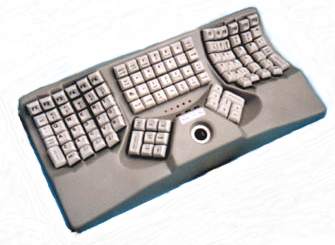 Researchers from Sweden report, "Intensive keyboard use appears to be associated with a lower risk of carpel tunnel syndrome."
How could this be?
First, the details.
2,465 randomly selected adults completed a questionnaire they received in the mail.
They provided information about the presence and severity of pain, numbness, and tingling in each body region.
They also provided their employment history and work activities — including average time spent using a keyboard during a usual working day.
In this study, using a keyboard at least 1 hour per day was designated "high use," while less was "low use."
Those with recurrent hand numbness or tingling had a physical examination.
Carpel tunnel syndrome was defined as the presence of symptoms of recurrent and verified pain, numbness and tingling, and abnormal nerve study results.
And, the results.
People with high keyboard use were significantly less likely to be diagnosed with carpel tunnel syndrome than those reporting little keyboard use.
2.6%: 4 hours or more per day
2.9%: 1 to less than 4 hours per day
4.9%: less than 1 hour per day
5.2%: no keyboard use
The bottom line?
The findings fly in the face of what everybody thinks they know.
And there are some reasons why they may not be accurate. For example, studies that rely on questionnaires in the absence of expert confirmation leave a lot to the bias and impulsiveness of those being questioned.
Also, writing on the Journal Watch website, Dr. Thomas Schwenk, who is board-certified in family medicine and sports medicine, suggests, "It's possible that people with symptoms of carpel tunnel syndrome had already restricted their keyboard use on their own."
We should not presume that the results were influenced by using ergonomic keyboards, since such a thing does not exist.
12/10/07 18:18 JR