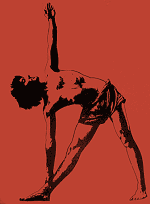 In 2007 there have been 4 published studies on this topic.
Here's an overview.
University of Washington
Following a 10-week Hatha yoga program, 11 women reported significant improvements in total menopausal symptoms, hot-flashes, and sleep.
Their impression of improvement was not supported by either 24-hour monitoring or their accompanying diaries.
Pennsylvania State University
In 164 previously low-active middle-aged women (average age 50 years) participated in 4 months of moderate-intensity walking and low-intensity yoga programs.
There were no improvements in sleep quality.
Pennsylvania State University, again
What appears to be the same study published in a different journal reported different conclusions.
Walking and yoga had a positive effect on menopause-related quality of life and for reducing negative affect.
Whether menopausal symptoms increased or decreased was associated in the change in cardiorespiratory fitness.
San Francisco Veterans Affairs Medical Center
14 postmenopausal women experienced at least 4 moderate to severe hot flushes per day or at least 30 moderate to severe hot flushes per week.
They received 8 restorative yoga poses taught in a 3-hour introductory session and 8 weekly 90-minute sessions.
For those who completed the study, the average number of hot flushes per week decreased 31%, and mean hot flush score decreased 34%.
The bottom line.
The results are not uniform, and it's unclear from this research if the type of yoga affects the response experienced by the women.
However, with the exception of one negative study (that was re-analyzed and republished), the results are positive for participating in yoga to reduce the uncomfortable symptoms of menopause.
11/25/07 21:20 JR