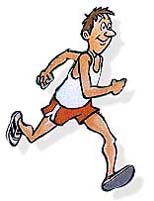 Last year this blog suggested that a pedometer would make a healthy Christmas present. This year, you were advised of the AARP offer of a free pedometer.
But, did you get one?
Here's why you should have.
First, the details.
To evaluate the association between pedometers and physical activity and health outcomes, researchers reviewed studies where at least 5 adults used a pedometer and reported a change in steps per day.
They found 26 studies of 2767 participants who were studied for an average of 18 weeks.
And, the results.
Pedometer users significantly increased their physical activity by 2183 steps per day — +27% compared to the start of the studies.
A predictor of increased physical activity was having a step goal such as 10,000 steps per day.
Pedometer users significantly decreased their body mass index by 0.38.
They also significantly decreased their systolic blood pressure by 3.8 mm Hg.
The change in blood pressure was greater in those with higher systolic blood pressure and a change in steps per day.
Ms. Wendy Bumgardner, a certified marathon coach, has written all you'll ever want to know about pedometers at About.com.
11/22/07 18:55 JR