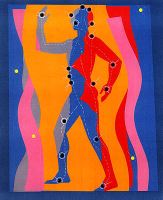 A reader noticed that the link was bad, so I added a new link to the article. "Acupuncture is a very safe treatment in the hands of competent practitioners."
That's the conclusion from 2 surveys of acupuncturists in the UK.
More than 600 doctors, physiotherapists, and practitioners primarily trained in acupuncture reported more than 652 minor and significant side effects in 6733 patients for an adverse event rate of 10.2%.
The most common events.
Tiredness (3%)
Bleeding or bruising (3%)
Aggravation of symptoms (2%)
Pain at the needling site (1%)
One in a thousand treatments were associated with a "significant" event, though without persistent consequences for the patients' health.
There were no serious adverse events.
The findings are similar to an earlier report from Japan and a literature search from the 1990s, here.
2/21/07 20:22 JR