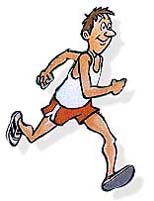 HealthNotes Newswire reports on the new physical activity guidelines for adults 65 years and older, and adults 50 to 64 with chronic medical conditions.
Here are highlights from The American College of Sports Medicine and the American Heart Association recommendations.
Healthy activity for all adults
Moderate intensity aerobic activity (eg, brisk walking) 30 minutes 5 days per week.
Or vigorous intensity aerobic physical activity (eg, jogging) 20 minutes 3 days per week.
Muscle strengthening activity (eg, weight training).
Seniors with medical conditions and those over 65
Activities that maintain or increase flexibility at least 10 minutes at least 2 days each week.
Perform exercises that maintain or improve balance.
For more information on improving balance, the results from the Central Sydney Tai Chi Trial is summarized here.
The bottom line?
The authors advise that regularity is the key. And before starting, discuss your plan with your healthcare provider.
10/4/07 19:38 JR