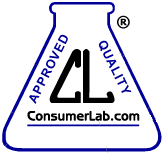 And half of the brands failed the test for folic acid.
According to their website, half of the 31 B-complex supplements tested lacked the total claimed amount of folic acid.
You'll have to pay to find out which brands were subpotent.
The bottom line?
This is one more example of how manufacturers of supplements are, shall we say? unreliable sources of medicines. It'll be interesting to see how this changes next year as the FDA set standards for quality control in manufacturing supplements.
I have no affiliation with with ConsumerLab.com.
10/8/07 14:45 JR