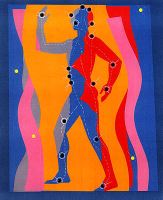 According to this study from the National Yang-Ming University School of Medicine in Taiwan there is a response, but the degree of improvement is less than from inhalation bronchodilator therapy.
First, the details.
18 patients with asthma were assigned to receive 1 session of real acupuncture and sham acupuncture in random order.
Researchers and patients did not know the treatment (blinded).
And, the results.
Forced expiratory volume in 1 second (FEV1; the maximum they could exhale over 1 second) improved significantly with real acupuncture.
The FEV1 did not change after sham acupuncture.
The response following administration of an inhaled bronchodilator was significantly better than with real acupuncture.
The bottom line?
This study is actually a follow-up to success with acupuncture reported in 3 patients about 2 years earlier by the same researchers. It's been suggested that the response to acupuncture in people with asthma occurs by stimulating the dorsal route ganglia (site of manufacture of opioid receptors).
However, considering that bronchodilator therapy was more effective than acupuncture, it's likely that its role would be complementary not as initial therapy in the majority of asthmatics. Unfortunately, the results of 2 studies of patients whose asthma was controlled did not show additional benefit from acupuncture.
A study from Hadassah University Hospital in Jerusalem of patients with moderate persistent asthma treated only with inhaled beta(2)-agonists found no additional benefit from acupuncture in lung function, bronchial hyper-reactivity, or patient symptoms.
In a second study from University Hospital Zurich, Switzerland, the effects after real and sham acupuncture compared to patients who had no needling were small and "clinically irrelevant." The researchers concluded there was no support for acupuncture in the management of pharmacologically well-treated patients with mild-to-moderate persistent asthma.
Proponents of acupuncture to treat asthma remind us that traditional acupuncturists treat the whole person rather than a disease. They attempt to get to the root cause of the problem rather than treating the symptoms.
Maybe so, but there appear to be no studies where acupuncture eventually resulted in less bronchodilator use. And when you can't breath there's only one thing that matters — opening constricted airways quickly. Based on this criterion, the data do not provide strong support for acupuncture.
8/2/07 17:48 JR