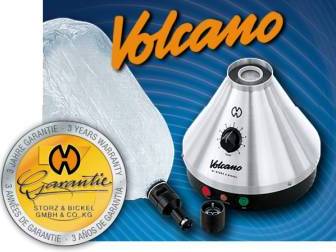 An earlier study (reported here, discussed here) showed that the Volcano vaporization device is a reliable way to achieve lung concentrations of marijuana.
Now, researchers from the University of California and San Francisco General Hospital confirm that vaporization of cannabis is a safe and effective mode of delivery of tetrahydrocannabinol (THC). They think the device should be used in future studies of THC.
First, the details.
18 healthy people were enrolled for 6 days of treatment.
The delivery of cannabinoids (3 different doses) by vaporization vs marijuana smoked in a standard cigarette was compared.
And, the results.
Peak THC blood levels and the amount of THC absorbed (6-hour area under the plasma concentration-time curve) were similar.
Carbon monoxide levels were reduced with vaporization.
No side effects occurred.
The bottom line?
The researchers conclude that vaporization of cannabis is a safe and effective way to administer THC. The THC reaches the blood stream, but the harmful effects of carbon monoxide on the lung are avoided.
7/26/07 21:26 JR