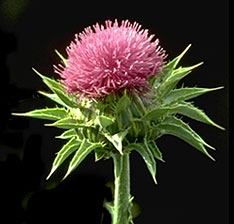 It's easy to fall into the trap of using names incorrectly, assuming that differences are unimportant.
Milk thistle extracts are being studied to treat cancer and lessen the side effects of chemotherapy. Here's what we should know, terminology-wise.
Milk thistle extract
The initial extract of crushed milk thistle seeds
Contains 65% to 80% silymarin and 20% to 35% fatty acids, such as linoleic acid
Flavonolignan
The most common class of compounds in milk thistle extract
Silymarin
A purified version of milk thistle extract
Contains at least 7 flavonolignans and 1 flavonoid that comprises 65% to 80% of milk thistle extract
Silibinin
A semipurified, commercially available form of silymarin
A roughly 1:1 mixture of silybin A and silybin B
Isosilibinin
Similar but more potent than silibinin, and may be produced more economically
Probably more than we need to know right now, but later it might be important.
7/16/07 18:32 JR