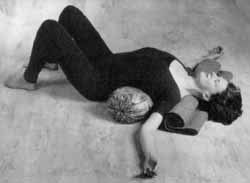 And, women like practicing yoga too.
Here are the details.
14 postmenopausal women with at least 4 moderate to severe hot flushes (flashes) per day or at least 30 moderate to severe hot flushes per week were studied.
Treatment included 8 restorative yoga poses taught in a 3-hour introductory session and 8 weekly 90-minute sessions.
Acceptability of the program was assessed through interviews and questionnaires.
And, the results.
All but one woman completed the study.
And all but one of those attended at least 7 yoga sessions.
9 women continued to practice yoga 3 months after the study.
Hot flushes per week decreased by 31%.
The hot flush score decreased 34% at week 8 compared to the start of the study.
No adverse events were observed.
The bottom line?
This is a very small group of women to study. And the researchers from the San Francisco VA Medical Center came to appropriately conservative conclusions, "This pilot trial demonstrates that it is feasible to teach restorative yoga to middle-aged women without prior yoga experience."
Furthermore, "The high rates of subject retention and satisfaction suggest that yoga is an acceptable intervention in this population."
The earlier study was in a larger group of women. It showed that women who walked or practiced yoga had better quality of life and reduced negative effects of menopause (including fewer hot flashes) compared to no-exercise.
Dr. Judith Lasater provides background on restorative yoga here. You might look into the book Yoganap: Restorative Poses for Deep Relaxation by Kristen Rentz. Excerpts are here.
6/7/07 18:40 JR