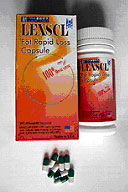 Health Canada is advising consumers not to use this product due to concerns about possible side effects.
The Hong Kong Department of Health found Lexscl Fat Rapid Loss capsules to be adulterated with sibutramine (Meridia) and thyroid hormones.
Sibutramine is a prescription drug used for the treatment of obesity, while thyroxine (T4) and liothyronine (T3) are prescription thyroid hormones.
These drugs are not intended for self-care, and should only be taken under the guidance of a health care professional.
The risks include increased heart rate and blood pressure, hyperthyroidism (overactive thyroid gland), and chest pain. There is also the risk of drug interactions.
4/16/07 21:54 JR