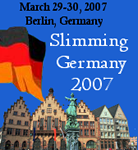 No matter how much money you have, it always comes down to being appreciated.
Despite the fact that the worldwide market for supplements to help us be slimmer is worth $7 billion, the biggest challenge is to be acceptable as a serious category, says Dr. Jorg Gruenwald from Berlin-based Analyze & Realize, a consultancy and research firm specializing on natural products.
In an article highlighting discussions from the First International Conference on Slimming Ingredients (Slimming Germany), Dr. Gruenwald, divided the slimming ingredients market into 5 groups based on the mechanisms of action
Boosting fat burning/thermogenesis
Inhibiting protein breakdown
Suppressing appetite/boosting satiety (feeling of fullness)
Blocking fat absorption
Regulating mood (linked to food consumption)
Not surprisingly, several options were suggested by attendees to improve the public's understanding and acceptance of slimming ingredients.
Collaborate with academia to do more research
Develop educational programs to improve understanding of the science behind slimming ingredients
Unfortunately, in this field one can be very successful simply selling the "sizzle" instead of the "steak."
Ya know?
The conference was attended by members of research and development departments, clinicians, pharmaceutical companies, food supplement companies, cosmetics companies, veterinary medicine companies, marketing departments, and investors.
4/11/07 18:15 JR