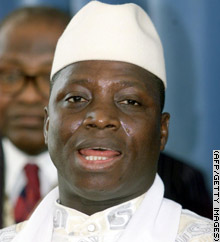 It took about 2 weeks for this story to unravel. It's true, Professor Souleymane Mboup of the University of Dakar in Senegal says, "In some samples viral load measures were below the level detectable by the tests."
However?
"This is not surprising, since these patients had been treated with ARVs [antiretroviral therapy] prior to the administration of the herbal treatment. Effective antiretroviral therapy can reduce HIV viral load to below levels of detection."
President Yahya Jammeh (photo) says he learned of the concoction of 7 herbs and spices in a dream.
Maybe he got confused and was really dreaming about dinner?

The worst of it is that the supposedly cured patients were made to stop standard AIDS treatment.
4/30/07 18:01 JR