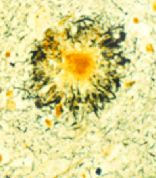 Agitation can influence the level of independence afforded to nursing home patients.
Here's a study of the effectiveness of lavender (Lavandula angustifolia) in treating agitation in people with dementia.
70 Chinese adults with dementia received 2 treatments in different order.
Lavender inhalation for 3 weeks and a control using sunflower inhalation for 3 weeks.
Responses were measured using the Cohen-Mansfield Agitation Inventory, which rates the frequency of agitated behaviors and physically and verbally aggressive factors, and the Neuropsychiatric Inventory, which assesses the severity of the symptom in the patient and the distress the symptom causes in the caregiver.
There was significant improvement based on both tests.
The researchers concluded, "Lavender is effective as an adjunctive therapy in alleviating agitated behaviors in Chinese patients with dementia. In a patient population particularly vulnerable to side effects of psychotropic medications, aromatherapy using lavender may offer an alternative option."
By itself, lavender is probably not the entire answer, but it seems to help.
3/9/07 14:30 JR