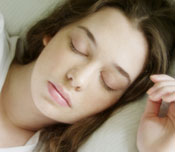 AARP Magazine has an article by Susan Roberts about insomnia. It's an easy and informative read, with useful information about treatment options.
This article by the American Academy of Sleep Medicine, which lists effective treatments, complements it.
Their list is based on a comprehensive review of the scientific literature since 1999.
Psychological and behavioral interventions: Effective for chronic primary insomnia and secondary insomnia
Stimulus control therapy, relaxation training, and cognitive behavior therapy: Effective to treat chronic insomnia
Sleep restriction therapy, multicomponent therapy (without cognitive therapy), biofeedback, and paradoxical intention: Effective for chronic insomnia
Psychological and behavioral interventions: Effective in older adults who are chronic hypnotic drug users.
The bottom line?
The list alone is enough to put me to sleep. But the knowledge that mind-body treatments can help might be the first step in seeking relief.
The second step would be to find a sleep center. Try here.
3/3/07 17:44 JR