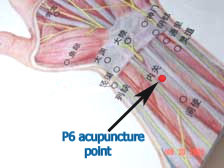 The Society for Ambulatory Anesthesia lists acupressure at the P6 meridian point (illustration) as an effective treatment for controlling nausea and vomiting following surgery.
Now, this study reports that patient-controlled acupressure helped control nausea and vomiting in patients receiving patient-controlled analgesia with morphine after gynecological surgery.
First the details.
100 patients were randomly assigned to acupressure at the P6 site (illustration) or acupressure at a non-acupoint site (control group).
Acupressure bands were placed on both wrists with the plastic bead positioned at the site of treatment.
Patients were also connected to a patient-controlled analgesia device with morphine.
And the results
33% of patients in the acupressure group had nausea compared with 63% of controls.
The cumulative incidence of vomiting after 24 hours was 25% with acupressure and 61% in controls.
The incidence of nausea, vomiting and antiemetic use was significantly lower with acupressure.
These results support an earlier study in women having breast surgery (breast augmentation, breast reduction, or mastectomy).
The bottom line.
This seems like a good option for making acupressure available to patients following surgery.
Illustration: AnaesthesiaUK
3/9/07 10:06 JR