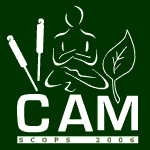 Integrative medicine is not just a 21st century politically correct term for complementary and alternative medicine.
According to the National Center for Complementary and Integrative Medicine, integrative medicine combines mainstream medical therapies and CAM therapies for which there is some high-quality scientific evidence of safety and effectiveness.
CAM, by comparison covers a broader group of therapies, including those for which much of the evidence is unsettled.
7/12/06 19:57 JR