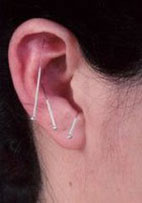 This is the first study of this form of acupuncture in patients having surgery in an outpatient setting.
120 patients had arthroscopic knee surgery under standardized general anesthesia.
They were randomly assigned to receive auricular acupuncture or a control procedure.
Acupuncture needles were inserted before surgery and retained in place until the following morning.
And the results
Patients who received auricular acupuncture required significantly less ibuprofen (Advil, Motrin) for pain relief compared to patients who got the invasive needle control procedure.
The median amount of ibuprofen required in the acupuncture group was 200 mg — half of a 400 mg tablet of Motrin.
The other group required 600 mg of ibuprofen after surgery.
The bottom line?
Sometimes there's a difference between what's statistically significant and what's important to the patient.
Whether the difference in ibuprofen use reported in this study would be really important to a patient is debatable. Maybe more painful operations should be studied.
1/19/07 19:22 JR