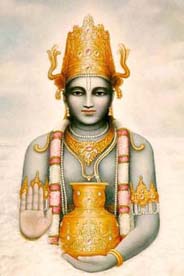 The Second World Ayurvedic Congress ended on November 12th.
Aleksandra Suriel, a nurse from Calgary, Albert attended. She's a yoga teacher, and reiki master, with an interest in energy medicine. Inspired by the meeting, here's her perspective on Ayurveda and Western medicine.
"Our western world knows only how to cure, but doesn't know how to live a healthy life."

"It's not favored in the west as it is a life-long practice and involves life-long learning. It is very much the opposite of a western 'quick fix'."
"Ayurveda mandates a life-long devotion and commitment to understanding every individual human condition fully and with great respect. The patient takes entire responsibility for his/her well-being."
If you have any interest in Ayurveda, it's worthwhile reading.
12/8/06 20:56 JR