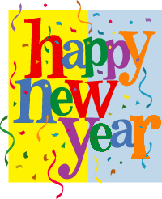 The latest edition of Yoga Journal tells us, "The social calendar we tend to keep at this time of year falls out of sync with the earth's natural cycles. If you find quiet, more modest ways to celebrate, you'll stay in tune with the season and have more time and energy to connect with close friends and family."
Here are some options
Become a yogi.
At the Laughing Lotus studio in Manhattan, they'll stretch until the clock strikes 12, then hang out for tarot readings, dancing, and tea.
If there isn't a studio near you, party like a yogi — just gather some friends and chant, sit, or strike poses.
Oops! That sounds like my typical New Year's Eve.
Here are some New Year options for the rest of us from Loyola University of Maryland.
Be daring.
Spend New Years day going slower than usual.
Allot double the amount of time that you think it will take to do something.
Be communal.
Ask family and friends to share their favorite holiday memories.
Ask each person to begin a sentence with ?I am glad that??
Have everyone respond, ?We are glad!?
Among the 10 most commonly used CAM therapies, prayer for one?s own health ranks first, and prayer by others for one?s own health is second.
So, start a CAM New Year.
Offer a prayer of thanks.
Go to a church.
What? You didn't like that church? Then try another.
Happy New Year from The C.A.M. Report.
12/31/06 10:26 JR