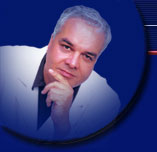 Last July, charges were brought against alternative medicine practitioner Matthias Rath for allegedly breaking German law on advertising drugs. Dr. Rath advocates a vitamin treatment to cure cancer. Background on the case is summarized here.
Now the case has been dropped.
The judge stated that, in the judgment of the court, the research by Dr. Rath was not charlatanism, but that on the contrary he "was probably playing a pioneering role" in exploring alternative ways of combating cancer.
Dr. Rath still has his critics, but at least he's not going to jail.
11/22/06 20:15 JR