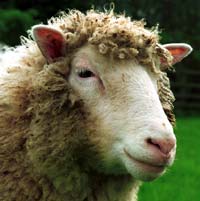 The Washington Post reports that the Food and Drug Administration is expected to rule soon that milk from cloned animals and meat from their offspring are safe to eat.
Scientific evidence suggests there is little cause for alarm based on food-safety reasons. Studies show that meat and milk from clones can't be distinguished from that of normal animals.
As expected the ususal consumer groups counter that many Americans are likely to be revolted by the idea.
The consumer groups might be right, but it would be appreciated if at least once they would back up their concerns with some facts. One interesting proposal is to regulate cloned animals as "new animal drugs." This would require testing similar to the process of new drug development.
Hmm. These groups would trust the FDA with food testing, while being critical of it when it comes to drug oversight.
10/17/06 09:11 JR