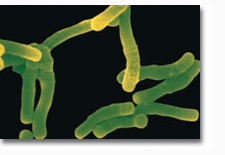 For the first time prebiotics lowered the risk atopic dermatitis in a high-risk population of infants.
More than 200 infants at risk for atopy (an allergy involving an inherited immunoglobulin of the IgE type) took part in the study. Those on bottle-feeding were randomly assigned to a prebiotic formula (a mixture of galacto- and long chain fructo-oligosaccharides) or maltodextrine as placebo.
Significantly fewer infants given the prebiotic developed atopic dermatitis
Diet had no effect on the severity of the dermatitis
Prebiotic supplements were associated with fecal bifidobacteria counts
But there was no difference in lactobacilli counts
The investigators proposed that oligosaccharides affect immune development by altering bowel flora. Prebiotics might have a role in primary allergy prevention during infancy.
The distinguishing characteristics of prebiotics compared to probiotics and synbiotics were discussed here earlier.
10/20/06 23:02 JR