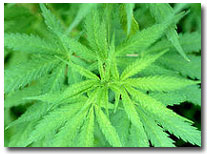 Six people with early primary open angle glaucoma or ocular hypertension were treated with a single dose of delta-9-tetrahydrocannabinol 5 mg (Delta-9-THC), cannabidiol (CBD) 20 mg and 40 mg, and placebo placed under the tongue on separate occasions.
Here are the results.
At 2 hours, Delta-9-THC significantly lowered intraocular pressure (IOP) vs placebo
IOP returned to pretreatment levels by hour 4
CBD did not reduce the IOP at any time
The higher dose of CBD (40 mg) produced a short-lived increase in IOP by hour 4
One patient experienced a transient, mild panic-like reaction after Delta-9-THC administration
No studies show that marijuana, or any of its components, lower IOP as effectively as drugs already available. In addition, there is the risk of potentially serious side effects, including an increased heart rate and a decrease in blood pressure in studies using smoked marijuana. In this study, one patient out of six had a panic attack.
9/22/06 20:59 JR