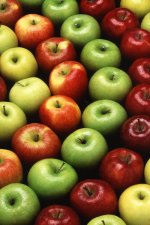 "They're big and plentiful, and just about ready to pick," says my local newspaper here in Orange County, New York.
Thanks to all the heat and rain this year, it's likely to be a banner apple crop.
As you prepare to pick your own, here's a comprehensive article on the health benefits of apples. It's nicely organized into clinical (real life) effects on cancer, heart disease, asthma, and diabetes, and other effects based on laboratory experiments. And that's only the first half of the article!
8/5/06 9:19 JR