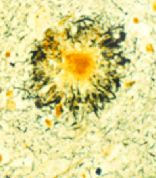 I am usually disappointed when I read descriptions of music therapy and the job description of a music therapist. For example, The American Music Therapy Association defines music therapy as "clinical and evidence-based use of music interventions to accomplish individualized goals within a therapeutic relationship by a credentialed professional who has completed an approved music therapy program."
What does that mean, exactly? I want to know what actually changes when music therapy is included in patient care? To find out, I searched PubMed for all articles on "music therapy" published in 2006. I found two articles that help me understand what to expect, here in post cardiac surgery patients, and here in patients with Alzheimer's disease. The second study is especially clinically relevant.
A group of 38 patients with moderate or severe Alzheimer's disease were assigned randomly to music therapy or a control group. Music therapy was associated with significant reductions in activity disturbances, aggressiveness, and anxiety. Other symptoms in the Behavioral Pathology in Alzheimer's Disease Scale (BEHAVE-AD) did not change significantly, and 4 weeks later the effects had mostly disappeared.
Are these findings of any clinical significance? For those with Alzheimer's disease and their families and caregivers, they are very significant. The favorable changes in these parameters address the specific areas that are most difficult to control.
The inability to control these three parameters is the reason my mother is not a candidate for assisted living or a step-down Alzheimer's unit that would be less expensive and provide her with access to a more stimulating and fulfilling environment. Instead, she bounces between the psych hospital and the behavior management unit where there is little meaningful interaction among patients and marginally more with the hard working staff.
At this stage of Alzheimer' disease one looks for any advantage. I say, bring on the music therapy.
Illustration: Neurofibrillary tangles and fiberlike processes of neurons (black) surround an amyloid plaque. Source: Chemical and Engineering News
7/10/06 18:57 JR