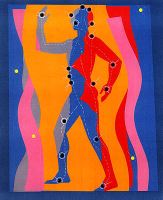 More than 1000 patients with chronic pain for at least 6 months due to osteoarthritis of the knee received up to 6 physiotherapy sessions and as-needed anti-inflammatory drugs. In addition, they were randomly assigned to receive 10 sessions of traditional Chinese acupuncture (TCA) or sham acupuncture from experienced acupuncture therapists, or 10 physician visits within 6 weeks.
The inclusion of acupuncture led to greater improvement in Western Ontario and McMaster Universities Osteoarthritis Index (WOMAC) scores and physical functioning at 26 weeks.
But here is the point. (Sorry, I couldn't help my self.) There was no significant difference in improvement between TCA and sham acupuncture. The researchers concluded that one explanation for the lack of any observed differences could be the physiologic effect of needling regardless of whether it is done according to TCA principles. Further analysis is provided here.
7/11/06 23:03 JR