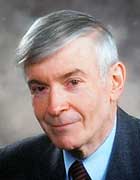 Dr. Stephen Barrett (photo) is critical of the 2005 report by the Board of Health Promotion and Disease Preventions (HPDP). The stated goal of the report is to describe the use of CAM therapies by the American public and provide a comprehensive overview of this therapy.
A few of his main criticisms are listed below.
The National Center for Complementary and Alternative Medicine (NCCAM) provided funding for the report but excluded persons perceived as critics from the CAM committee.
Despite spending more than $500 million over a decade, no studies validate any CAM practice as safe or meaningfully effective for treating any illness or condition.
Insinuates that critics of CAM practices or claims are closed-minded extremists.
So, who is Stephen Barrett? He's the founder (1969) and chairman of the website called "Quackwatch," whose stated mission is to "combat health-related frauds, myths, fads, and fallacies."
I guess if you live in a glass house somebody will throw stones. Tim Bolen (a health care consumer advocate) of Quackpotwatch describes Dr. Barrett as part of a "conspiracy" to suppress "unconventional" and "natural" therapies, as well as those who promote them. Unfortunately, the link to Quackpotwatch is not active.
You can't tell the horses in the race without a program.
6/20/06 21:20 JR